With a keen eye for detail and a dedication to transforming interiors into captivating works of art, HW Interiors make even the mundane beautiful! Bringing a fresh and fun perspective to every design project, Lisa and Heather infuse every space with sophistication, style, and a touch of southern charm.

No strangers to luxurious finishes and tasteful color palettes, Heather's sense of design and Lisa's organizational skills, came in handy when collaborating on Lisa's own new construction in 2015…and the rest is history. Since then, the duo have been leaving lasting impressions with their speciality: beautifully comfortable space with an elevated aesthetic.
Q: A home without art is like...?
Every piece — from the furniture to the art — tells a story, adding an extra layer of depth and character to the spaces they bring to life. With an impeccable attention to detail and a unique understanding of how art impacts atmosphere, the duo at HW Interiors creates environments that are both visually captivating and harmoniously functional.
The Pink Bubbly was a no brainer for HW headquarters as we are known to have champagne Fridays around here! It spoke to us and made us smile which is everything!
-Heather
Q: What does art do that furnishings can't?
Lisa: Art can provoke emotions, make people feel a myriad of emotions and evoke a response and mood.
Heather: Art can be purposefully provocative and intentionally emotional.
Q: What's a room or spot in the home that isn't thought of as a home for hanging art… but should be?
Lisa: That would be the laundry room! We definitely want to incorporate art in mundane spaces — I mean if we have to do the necessary tasks and we know how our surroundings can affect our mood, then why shouldn't those spaces be equally as beautiful!
Q: What is your favourite tip for styling a space with art?
Heather: It is really important to consider how our client wants to feel in a space when designing and art has an integral role in our choices.
Lisa: Use what speaks to you! You should walk by it and feel something.
Q: Give us some tips on choosing the right size and frame finish!
Heather: I think it's really about the scale and proportion of the room as well as what else is going on in the space. If we go large and bold with the art, then maybe the supporting pieces or "actors" are more subdued or maybe they are more monochromatic. The frame finish can be white and very gallery feeling or a complimentary wood tone that works with the pieces in the room. Of course we want the frame to support the piece and not compete with it.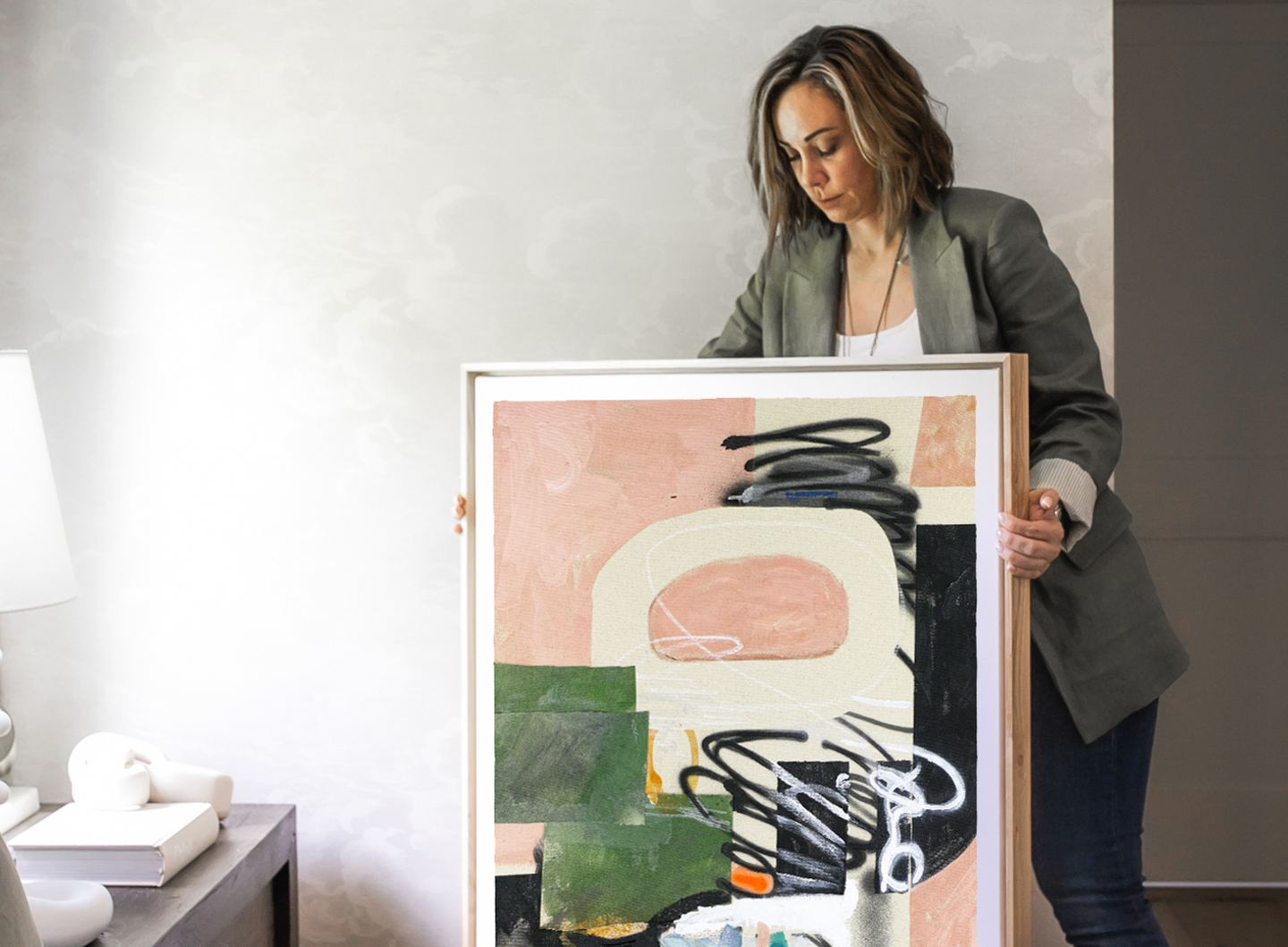 Q: Why do you believe art can be a challenging decision for people to make? Why do so many people settle for bare walls?
Heather: I think the cost of art is the only challenge. Art is often associated with an elite world for an elite audience, true of even the most bourgeois artists. People don't trust themselves with art and are even more nervous with the thought of making what is often a large investment, thus living with bare walls.



Q: Why is ARTSAKE a game-changer?
Heather: Artsake is literally genius and from the moment I heard their mission statement, was even more in love with the company. It's truly for the love of art and people!
Lisa: The art is accessible and the website is extremely easy to use. It was literally the easiest sourcing experience ever.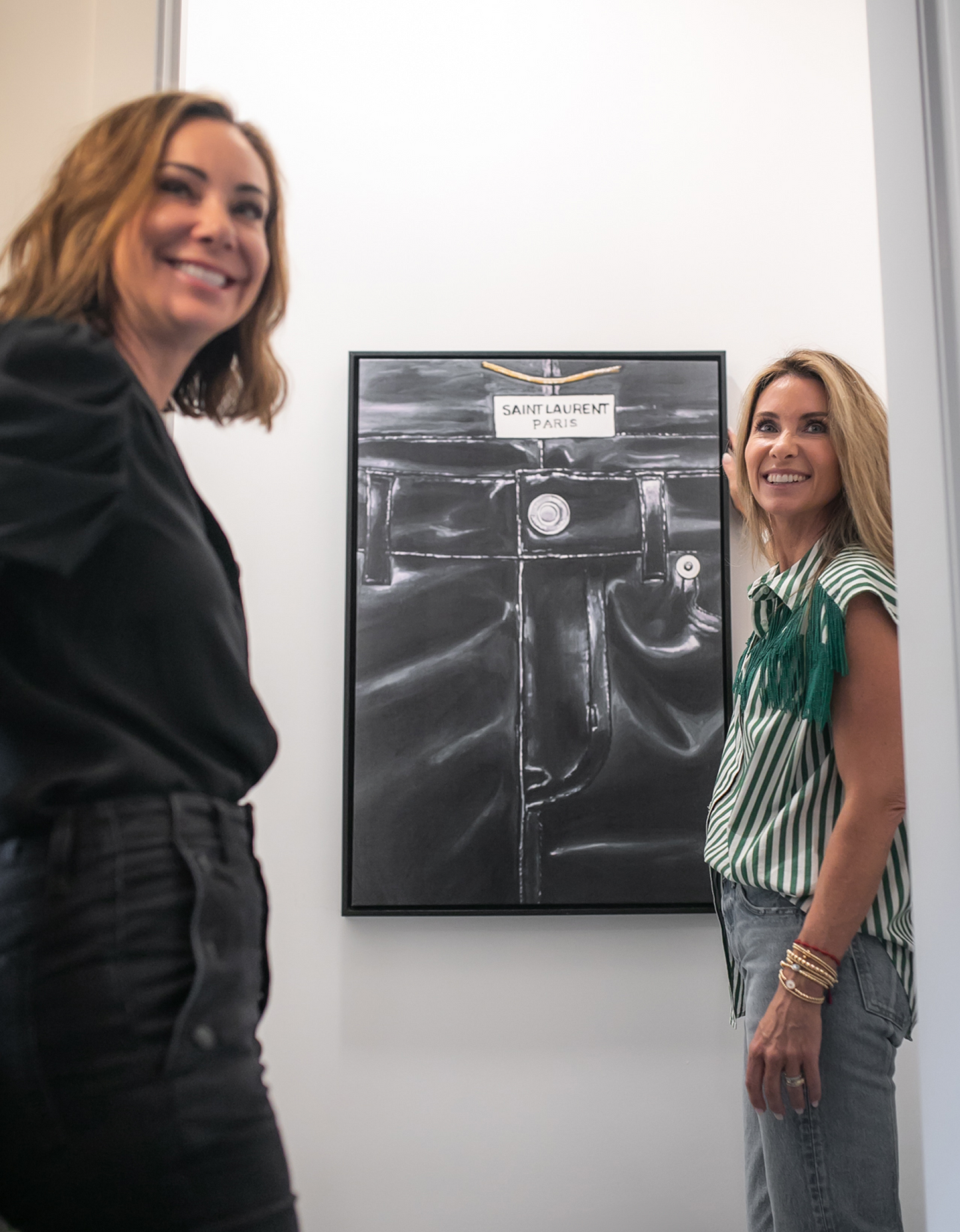 This iconic pair of leather pants was meant to be! Its edgy, fem fatal feel is exactly what we were dreaming of.
-Lisa
SHOP THE FEATURED PIECES