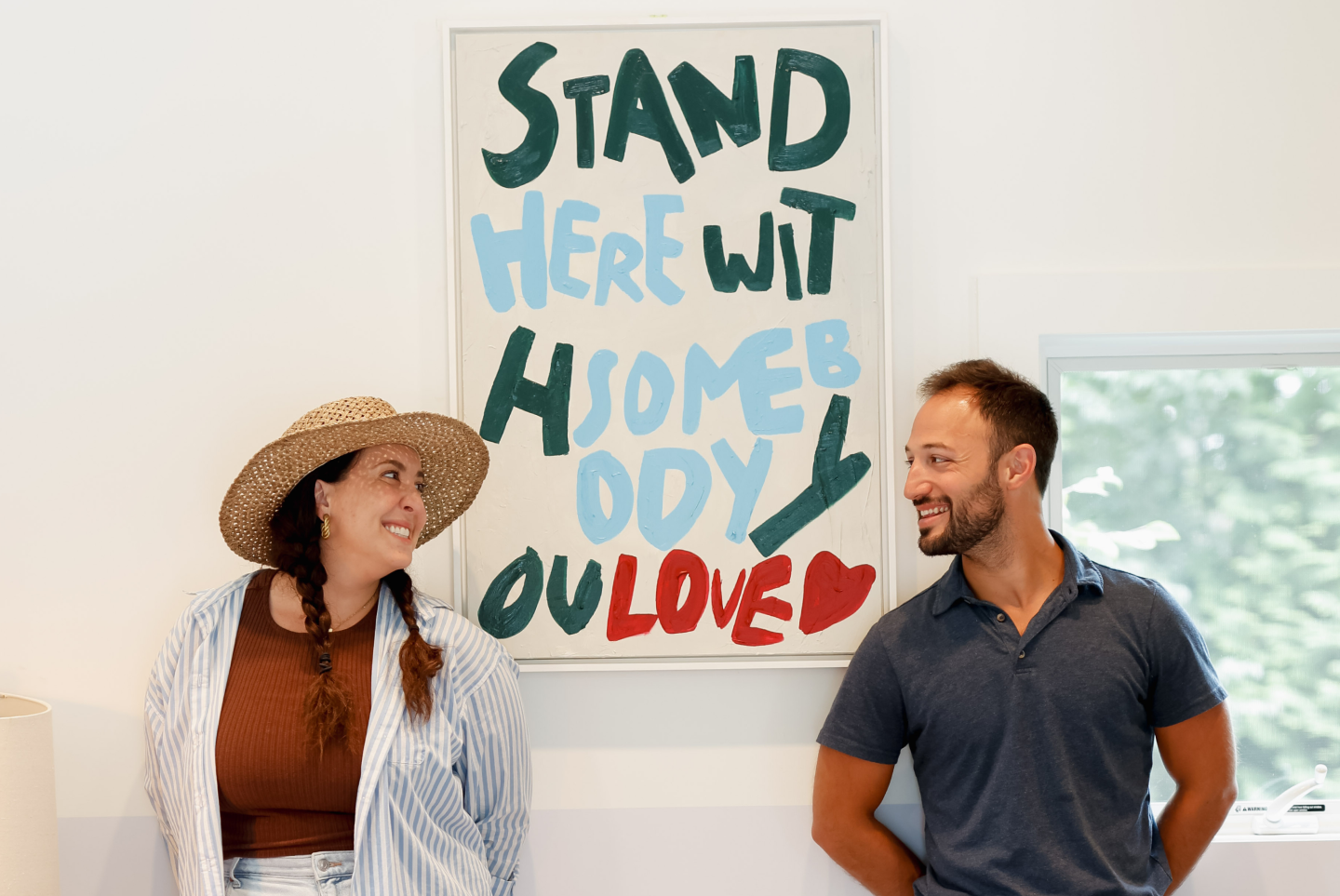 Sami Sage, the visionary founder of Betches, has always had an innate talent for bringing people together. Through her media company, she's brought individuals together from across the digital landscape, fostering a sense of community that transcends boundaries. And now, she's blending her love for connection with the transformative power of art.

Q: A home without art is like...?
A birthday cake without candles.
'Stand Here' invites you to experience togetherness in a profound and tangible way — creating moments of connection that transcend the digital realm just as seamlessly as they translate into an Instagram-worthy photo to share online. It's the perfect backdrop for capturing the beauty of your relationships. Whether it's a photo that freezes a cherished moment in time or simply standing hand in hand with someone you love, this artwork is your reminder to embrace the power of friends, family and community — because there's nothing more important than bringing people together.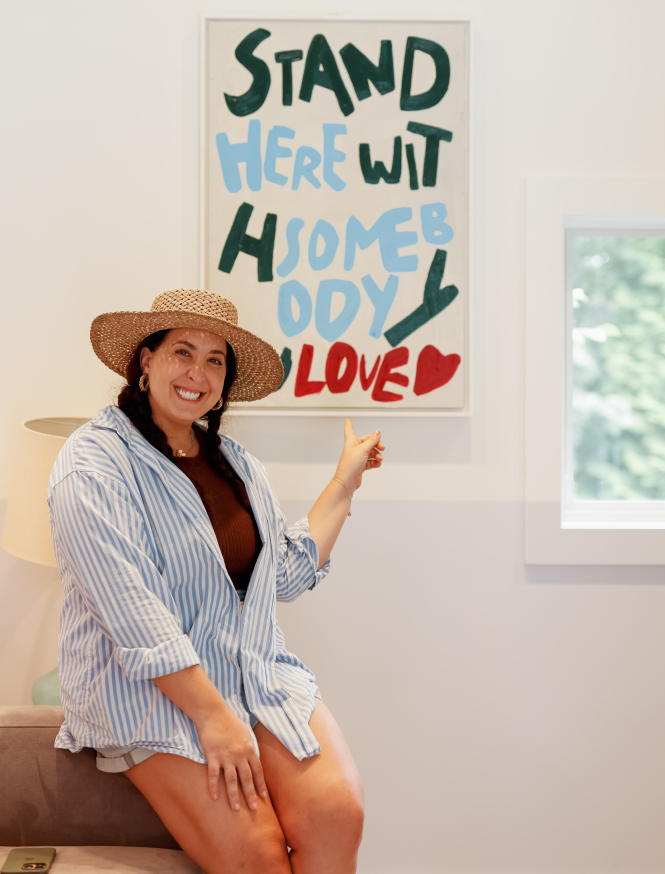 ABOUT THE ARTWORK SAMI SAYS:
I originally wanted to create a piece that was inspired by my brother, who passed away in 2016. We wanted to create something that evoked togetherness and care.

I love the potential for interactivity with this artwork. The moment that can be created to capture a photo with it, or just to stand there with someone you love and be in the present.
from the sale of STAND HERE will go to a charity dedicated to making pregnancy and childbirth safe for every mother.
Q: What is it about Artsake that made you want to do this collaboration?

On top of the awesome pieces that make it affordable to purchase something very large, which traditionally could cost thousands of dollars, I love that Artsake regularly aligns with non-artist creators and charitable causes to imbue more meaning in their business.
Q: What's the first Artsake piece you purchased?
My first piece was The Sunday Times. I was looking for something to place behind my desk that would make a cool background, and I felt it was perfect for how much I work with news. I constantly get compliments on it.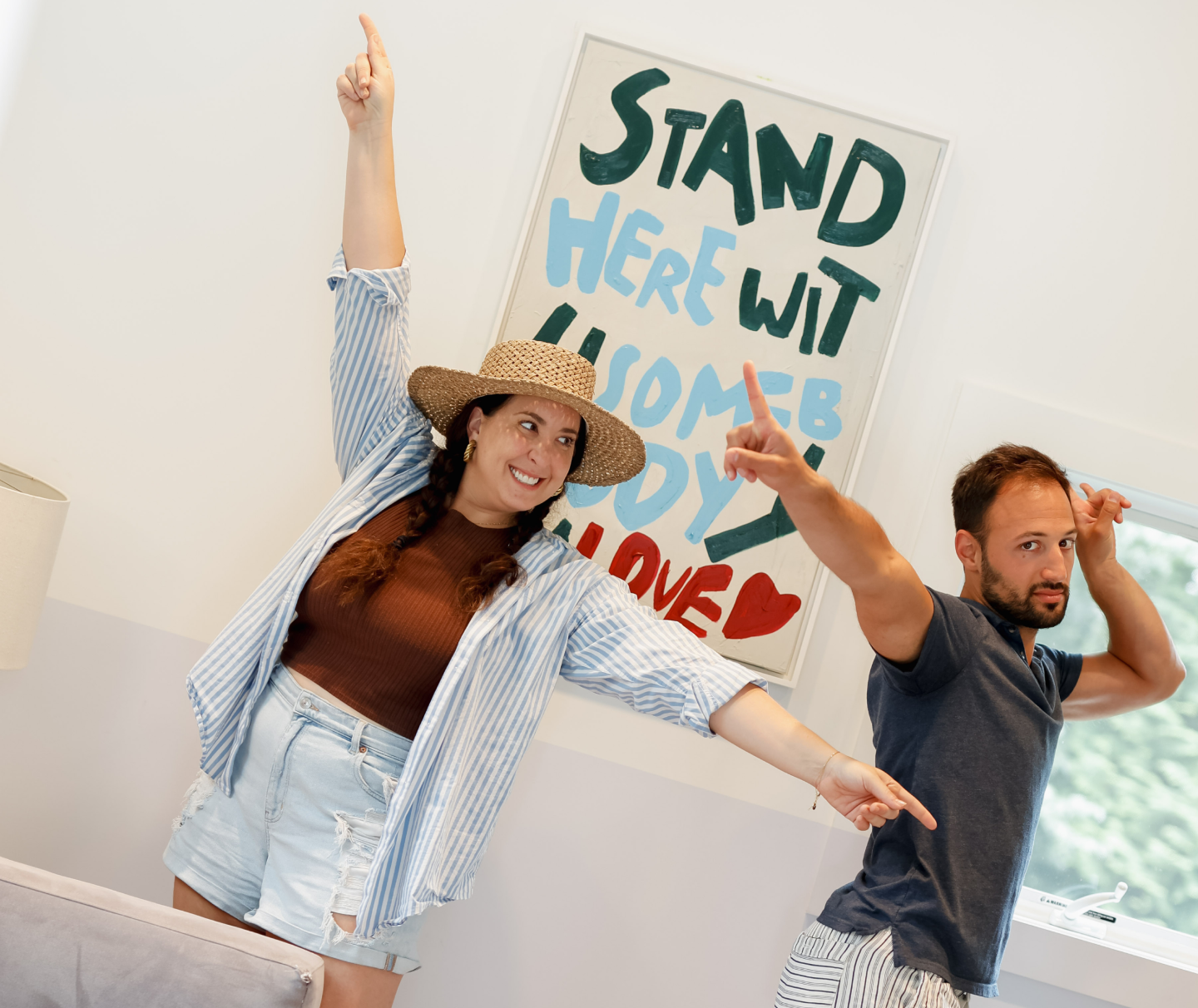 Q: You chose to do this piece for charity, talk to us about why and the charity in question?
Access to maternal healthcare is a huge issue, and one that's typically addressed by individual families in silence. I'm not a mother myself, but I feel passionately that access to reproductive and postpartum care makes all the difference in the lives of nearly everyone I know. There's tons of research that suggests children can be impacted by pregnancy, delivery and post-birth experiences, and yet most parents are sent home the next day with some well wishes and a few diapers (for themselves, not the baby). There's hardly any support, let alone equitable and affordable support, during the most important developmental phase of all of our lives.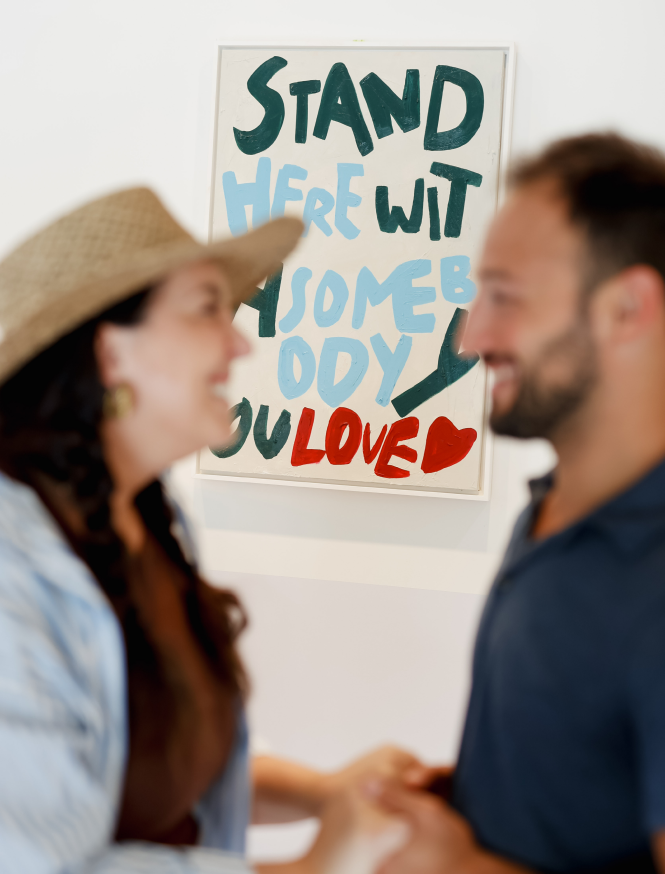 The beauty of art is its power to help people feel like they're not alone in the world, and that someone understands them, which can help lessen a burden even just slightly.
-Sami
Q: How do you feel art, philanthropy, and social change intersect, and what role do you hope to play in that intersection?

Art can be used to make a statement, provide enjoyment, or fundamentally uplift people. Historically it's been used to express things that one couldn't or shouldn't say in plain, non-artistic terms. Artists tend to be on the frontlines of social progress and I hope to partake in that spirit however I can.
SHOP THE LIMITED ADDITION ARTWORK THAT'S BRINGING PEOPLE TOGETHER
from the sale of STAND HERE will go to a charity dedicated to making pregnancy and childbirth safe for every mother.